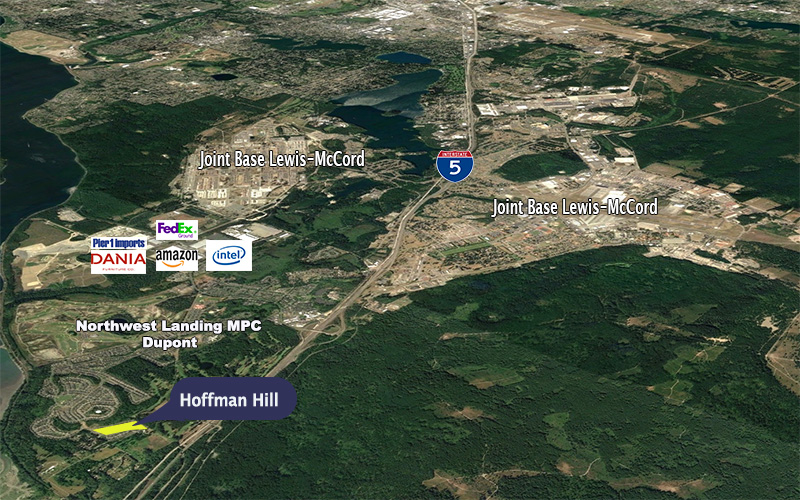 Hoffman Hill-Division 5-DuPont, WA
Asking Price:
$2.17MM or $35,000/lot with Plat Approval
Sold Price:
$2.17MM
Property Status:
SOLD
Lots:
62 Fee Simple Lots
---
Hoffman Hill Tracts I, J and O are a "pad ready" opportunity located within the upscale Northwest Landing Master Plan.The Offering: 62 Approved Fee Simple Zero Lot Line Residential Lots
The Offering: The offering includes three parcels, aggregating 7.75 acres in a master plan development, zoned R-12 that will be approved for 62 zero lot line residential units. The properties are improved with public arterial access roads, already installed curb and sidewalk, and an offsite storm water detention facility. The improvements are such that the builder would only have interior parcel improvements to complete.
Northwest Landing Master Plan: Northwest Landing is a 3,000-acre mixed-use planned community located on the sought after I-5 corridor less than an hour south of Seattle and adjacent to the region's 2nd largest employer in Joint Base Lewis McCord. The historic village of DuPont is the cornerstone of retail and shopping within the master plan which has become the optimal housing choice of JBLM service members and employees.
The Opportunity: This offering provides much needed single-family residential product to the booming Pierce County and Puget Sound marketplace. The opportunity is greatly influenced by its' sought after location within a master planned community and its proximity next to JBLM main gate. In Addition, the superior access to the I-5 corridor and proximity to the region's other top employers like Amazon's DuPont fulfillment center and State Farm Insurance, make this a great opportunity to deliver product in a land constricted new home market.
Featured Properties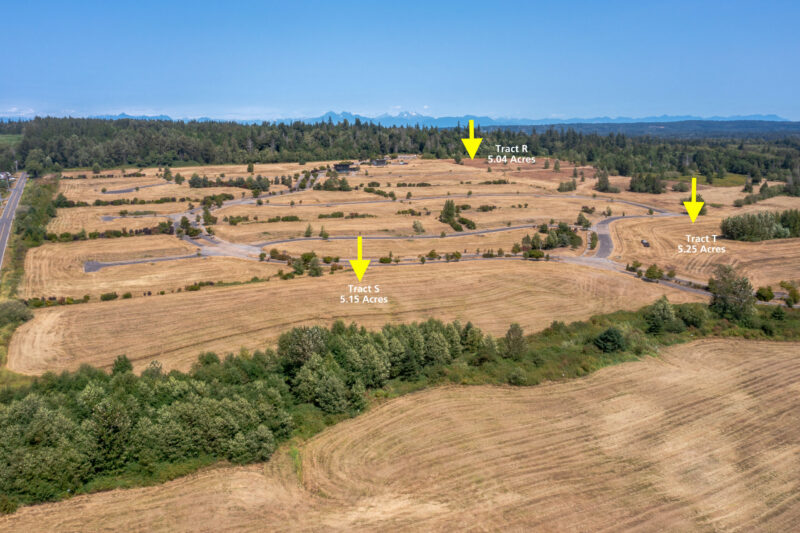 Horizon at Semiahmoo – Tracts R,S,T
Multi-Family Tracts at Horizon at Semiahmoo
This offering includes three multi-family Tracts totaling 15.44 acres, most likely an attached two story townhome product. This property is located within a Planned Unit Development called Horizon at Semiahmoo. This is a much needed residential upscale townhome product to the Semiahmoo marketplace. Commanding views of Birch Bay and the Cascade Mountains are inherent within this […]
VIEW
Testimonials
"We work with several land brokers across the western U.S. And Ron Branch is among the best.  Ron is very technically sophisticated, knowledgeable of the mechanics of the markets in which he operates, and is very focused on adding value to his clients.  Moreover, he is gentlemen who is just enjoyable to work with.  We would recommend Ron to anyone who needs a solid and honest advisor. "

"I have worked with Ron on land acquisition for the last 17 years and have appreciated his honest service at Branch Marketing Group. Ron has an excellent reputation as a land broker and provides us great insight into our regional land market. His ability to provide land opportunities to us has been invaluable. I recommend Ron to anyone who is in need of a land expert."